Now, I have never been one to doubt El Dandy, but I've also seldom ever doubted "The Excellence of Execution" himself, Bret Hart.
Bret was always a Wrestler's Wrestler. He was dedicated to the craft, and he took wrestling as seriously as anyone else who has ever stepped foot in a ring. Wrestling wasn't just Bret's career; it was his whole damn life. He was born into it and raised in it. There was never any other realistic option for The Hitman. He was always going to be a wrestler, and he was always going to be stellar at it.
So when The Best There Is, The Best There Was, And The Best There Ever Will Be (and you think Triple H has a lot of nicknames) says that any individual wrestler can basically be broken down into three separate categories to determine how great (or not) there were… it's got to be true! After all, who else but Bret Hart would be–hell, COULD be–the arbiter of such things?
Bret's three-pronged look at a wrestler's impact starts off by judging the talent's LOOK, or appearance. How convincing are they as a professional warrior? Does their mere physical appearance inspire dread? Is it memorable? Or do you look at the talent involved and quickly dismiss his or her potential? Or do you forget about them entirely when they aren't on screen?
After Look, which is generally the most objective category, we start to get a little more nebulous. MIC SKILLS, or charisma, can somewhat be a hit-or-miss with folks. In some cases it is absolutely undeniably there… or not there. But in a few cases, a talent I might find wildly entertaining, you may say is barely a presence.
But if you thought Charisma would be a bit scattershot, what about WRESTLING SKILLS, or ringwork? Is flippy shit inherently better than two big guys telling a story through restholds and clotheslines? It's the most subjective of the three categories, overall. What REALLY makes a good wrestler?
We are at SWO Productions LOVE subjectivity! It's the best. We can fight with each other AND THEN fight with you, too! So I brought on two of our wrestling aficionados, Jabroniville and Wyntyr, to break down wrestlers of the past (and, in a separate segment, Wyntyr and I will judge some modern talent) and see how each of us would compare them on Bret's rating system. Who are the TRUE legends? Who is more hype than truth? Let's find out!
---
BRET HART
What better place to start than with The [Hit]Man himself? He gave us the categories, so he should be subjected to them first.
STEW'S RATINGS:
LOOK: 5.5/10
CHARISMA: 6.5/10
RINGWORK: 10/10
THOUGHTS: Ironically, I end up with the same 22/30 that Bret gave himself, even if I fudged some of the individual numbers on the way there. Bret gave himself a 7 in look, which is a touch too high for me. When you get into the 7+ range, you should be dealing with folks whose appearance leaves an impact. Bret was a handsome dude, and big for you or me, but he didn't really stand out. The bright pink attire, sunglasses, and leather jacket were all enough touches to get him on the plus side of average.
Conversely, I think Bret lowballed himself in Charisma with a 5. As a babyface? Sure, I would agree; he was pedestrian. But when Bret went heel, he found a gear in his personality he never showed before. Maybe because he bought into chunks of what he was saying; maybe he just liked being a dick. But Bret's entertaining heel tendencies raise him up to a solid 6.5 for me.
As for ringwork? Bret Hart is a 10/10 in ringwork or no one is. Not saying he is NECESSARILY the best of all time there, but he's in the conversation. He didn't just "do moves"; he told stories. And far too many mid-tier guys can say they had their best match with Bret for it to be a fluke.
JABRONIVILLE'S RATINGS:
LOOK: 7/10
CHARISMA: 7.5/10
RINGWORK: 10/10
THOUGHTS: Bret is an all-timer- if he's not a 10 in "Ringwork", then nobody is and your system is broken. The dude has a TON of legendary matches, and most notably has had ***** or thereabouts classics with a big variety of stars, even guys like Davey-Boy Smith (who didn't normally hit that). He's had great matches with Diesel (look at how Bret plays a conniving babyface in their Survivor Series match to prevent Diesel from getting booed until it's appropriate), Jean-Pierre Lafitte (the current PCO) and more. His Look can be a bit iffy, because he's not a huge guy, but he had a good physique, was a good-looking dude, and had that infamous greasy "wrestler hair". He looked like a star, no matter what.

His Charisma is the trickiest aspect to rate, because he was easily left in the dust by guys like Shawn Michaels or Hulk Hogan. Dueling promos were not his forte. And even as a babyface, his "why me?" complaining could grate. But Bret's had a TON of legendary promos, and when he really puts some "oomph" into it, there's few better (his famous "Everyone in that goddamn locker room knows it, and if you don't like it, TOUGH SHIT!"). And his famous "Who are you to doubt El Dandy?" is the most hilarious off-the-cuff response ever. Like, Bret HAD charisma (he was pretty awful in the '80s, of course, but improved), just not as much as a top guy should have. He has a pretty natural sense of humor and a funny conversationalist manner of speaking, but that's not really the kind of funny that broadcasts well in pro wrestling- it makes him a great guy for shoot interviews or backstage snark-promos, but on the mic he was hit or miss.
WYNTYR'S RATINGS:
LOOK: 6.5/10
CHARISMA: 6/10
RINGWORK: 10/10
THOUGHTS: It's a bit hard to separate Bret's Charisma from his Look, as they're so intertwined. Everyone LOVED Bret; the sunglasses, the skull-heart, the black and pink color scheme… and then he started talking. Like Jab said, Bret had a natural sense of humor and got some good zingers/memes in, but IMO, even when he was on top of the company Bret always sounded like he was yelling not out of anger, but out of fear. His more subtle promos were better (again, imo), but he was never much of a talker. That said, he was also a part of one of the greatest moments in MadTV (and one of the worst moments in WCW /shrug), so I'll give him an extra .5 solely for that.
As has been said exhaustively by anyone who has ever seen him work, Bret is a Master Class in ring work. There are better technicians, better submissions specialists, better chain wrestlers, and better storytellers, but if anyone ever combined those into one package better than Bret Hart, I haven't seen him. 22.5 is a great score; it still seems slightly low for one of the best in-ring workers of all time, but it is what is. Hail Bret!
---
HULK HOGAN
No surprises here as we move from Bret right onto the man he compared himself to!
STEW'S RATINGS:
LOOK: 10/10
CHARISMA: 9.5/10
RINGWORK: 3.5/10
THOUGHTS: At 23 on my scale, my version of The Hulkster SLIGHTLY edges Bret's (who gave himself and Hulk each 22/30). The 10/10 in Look is almost undeniable. Sure his hair is a bit unfortunate, but almost everyone in America can close his or her eyes and instantly picture Hulk Hogan. Twenty-four inch pythons! Yellow and red! The Hulkamania font on his shirt! That moustache!
As for Charisma… is it sacrilege to not give Hogan a 10? He was THE MAN for years, and he had so many catchphrases. He made wrestling huge in the mainstream. He is as close to a 10 as I think you can get without scoring perfection. He can really only be knocked for not being a tremendous ad libber (the guys I will give 10's to in this series would never get caught flat-footed), but when you have that voice and that intensity and that ability to magnetize folks? Ad libbing is overrated.
And then there is Hulk's undeniable weak spot: ringwork. Hogan is just not a guy who puts on affairs that are full of counters and psychology. Even his strength–storytelling–usually boiled down "get beat up until I point my finger at the antagonist" (or, in his nWo years, "hit you with a weight belt until the nWo cheats so I can win"). But whereas I am not watching Hulk matches to be astonished, he could usually at least muster "entertaining". So low, but not as low as Bret gave him.
JABRONIVILLE'S RATINGS:
LOOK: 10/10
CHARISMA: 10/10
RINGWORK: 5/10
THOUGHTS: Hogan is a huge name, and rightly so- with his gigantic height, big puffed-up physique and his awesomely-80s charisma, he was a coke-fueled madman and DEFINED that decade. He had great timing, played the furious babyface well, and made you BELIEVE. His stuff doesn't stand the test of time the way Macho Man or Jake Roberts' promos have, as he comes off a much more dated, simple superhero, but hey- the crowds react like he's a 10/10 in Charisma, so he's a 10/10 in Charisma, you know?

Hogan's in-ring skill is the big question. The dude wrestled the same match every night. His finisher sucked. He wasn't a "workrate guy", and for all the "He wrestled good in Japan!" comments you can muster, he USUALLY didn't bother. But he was a little bit better than even his peers give him credit for, I think. His moveset sucked, but knowing how to time a babyface comeback is a rare skill, and he was a MASTER. And his overwrought, woe-is-me selling was fantastic- cartoonish as hell, but the dude was 6'8″ and made you feel that every heel was murdering him until it was time for him to no-sell and make the comeback. So his peak match may be **** or so (the Ultimate Warrior one at WrestleMania VI, probably?), but his average match wasn't quite that bad. The dude knew how to work- he just often didn't bother.
WYNTYR'S RATINGS:
LOOK: 10/10
CHARISMA: 10/10
RINGWORK: 5/10
THOUGHTS: Pretty tight with the concensus here, but God do I dislike Hulk Hogan. No one can dispute that Look. Good lord, just look at the man: the orange hot dog skin, the sheer size, the 24 inch pythons, the easily ripped belly shirts; I'll even disagree with Mr Stew on Hulk's balding mullet. He was so easily identifiable by that gross thinning mop that it defines him almost as much as vitamins and prayers.
Ringwork? The less said, the better. Although yeah, he was *great* in Japan. He's a prototype Kevin Nash, in that he tried hard once, realized he was a charismatic giant, and then coasted on that for the entirety of his career for better or worse.
Speaking of vitamins and prayers, I hope you like vitamins and prayers and brothers, because you're gonna hear a lot about vitamins and prayers and brothers, brother! As iconic as Hulk's promos are, they're pretty standard boilerplate Superman stuff like Jab said, sprinkled in with references to Trump or David Letterman when the coke really got on top of him. But I truly believe that there will *never* be another wrestler as famous as Hulk Hogan (adjusted for media inflation). Remember how much I said I dislike Hogan? I say that as a grown man who has owned a 12 inch Hulk Hogan doll (complete with rubber championship belt and cloth Hulkamania shirt) for roughly 33 years, and still has it displayed as proudly in my house as normal people display Live, Laugh, Love plaques. Hulkamania truly ran roughshod over the entire world, and we may honestly never recover. Unless we take our vitamins and say our prayers, I guess.
---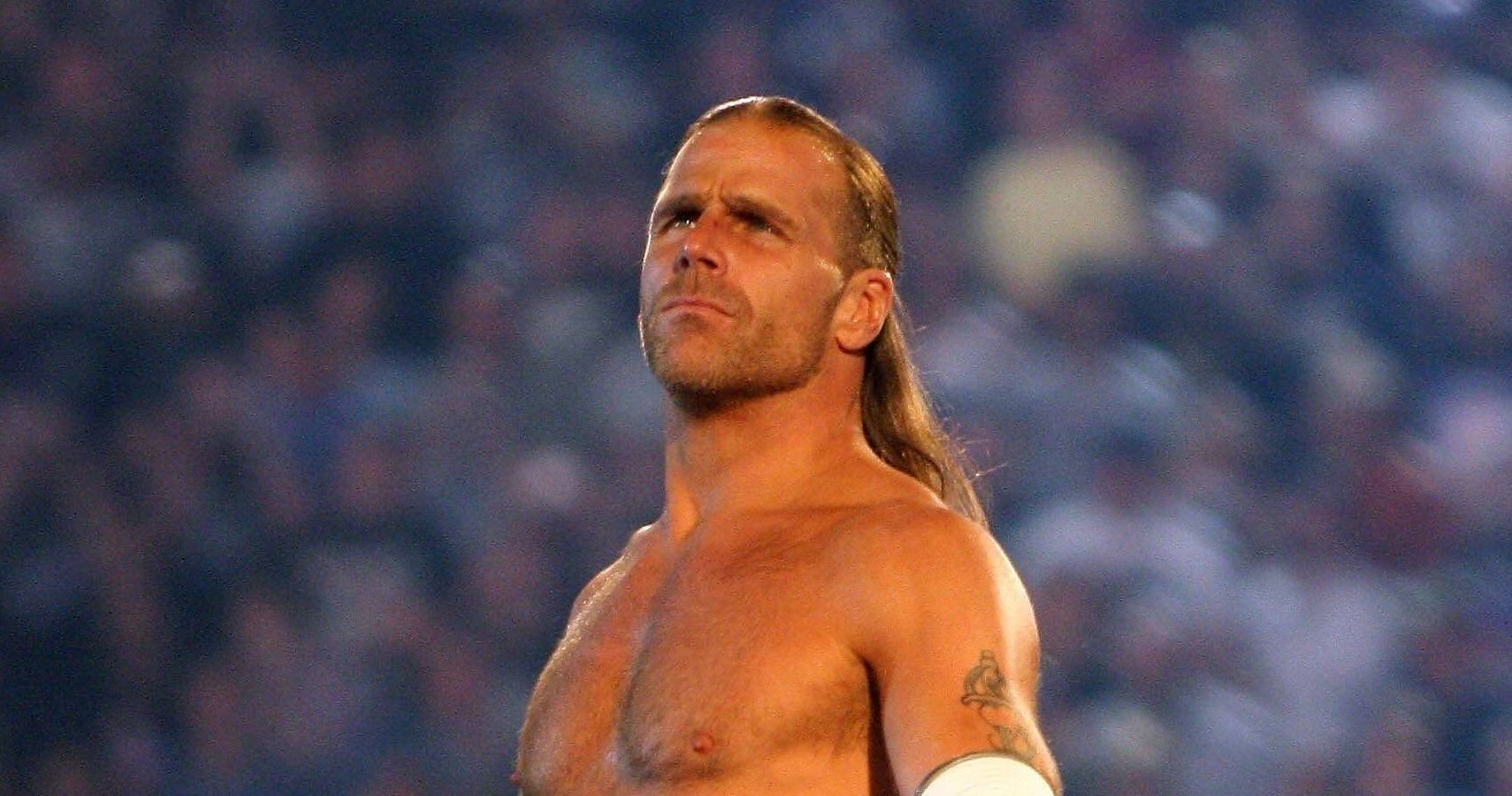 SHAWN MICHAELS
Bret, then the man Bret compared himself to, then… The Hitman's biggest rival!
STEW'S RATINGS:
LOOK: 5.5/10
CHARISMA: 10/10
RINGWORK: 10/10
THOUGHTS: Shawn at his peak, which is virtually any time between "break up of The Rockers" and "developing a permanent wonky eye" was very much in the Bret Hart range of being a good looking dude who isn't quite believable trading blows with true heavyweights, but has a memorable look and get-up, so it's fine. It's FINE. I have a feeling 5.5/10 on Look is going to feel low as I grade more guys and this series goes on, so I reserve the right to bump them both up to a 6/10 later on.
Just as Hogan was on the very high end of 9.5 charisma, I see Shawn as near the bottom rung of 10/10, but still… I am fine with a 10/10 here. Every time I start to think about downgrading him, I think of "Who's your daddy, Montreal?", and then he goes back to a 10. Shawn was mesmerizing as an entertainer who could shift gears and adjust to any situation. He always had that It Factor.
And I don't feel bad about giving Mr. Wrestlemania a 10/10 in ringwork, either. He put on some of the best matches you will find in the world, and when his heart was in it, you couldn't take your eyes off of him. And sometimes even when his heart WASN'T in it (his superball showing against Hogan at SummerSlam).
For me, at 25.5 / 30, Shawn carries the day, but for a LONG time, HBK was my favorite wrestler, so… I'm biased.
JABRONIVILLE'S RATINGS:
LOOK: 5.5/10
CHARISMA: 10/10
RINGWORK: 10/10
THOUGHTS: Shawn was more charismatic than Bret, and was an even more dynamic wrestler in the ring, having fantastic matches of nearly every style. He was just as good at carrying slugs, and had amazing spots and seemed to get EVEN BETTER as his body was breaking down. Master of comebacks, timing, facial expressions, etc.- Shawn was the man. And his promos were epic and legendary, playing pissed-off guys, cocky heels, whiny wimps, funny guys, etc. Few guys were ever as good at playing babyface AND heel as Shawn Michaels.

Overall, Shawn is better than Bret- near-equals as workers, but Shawn had a 10 in charisma while Bret was merely a little better with looks, without reaching the same number. It's better to have two "10s" and one weak link (and Shawn didn't have a BAD look for a smaller guy- he was just undersized) than one "10" and two mid-high scores.
WYNTYR'S RATINGS:
LOOK: 6/10
CHARISMA: 9/10
RINGWORK: 10/10
THOUGHTS: Okay, so remember how I said no one could match Bret in overall ring work? So… I might have to walk that back a bit. Shawn, Shawn, Shawn. I'll forever hate him for his backstage chicanery as I love him for his on camera work. The man was a *massive* piece of trash for a huge portion of his career, but Jesus just look at those matches. You want Story? Vs Ric Flair, Wrestlemania 24. Technical chain wrestling? Literally any match against Bret Hart. You want a gimmick match? The man literally *invented* the Ladder Match (well, sorta)!
As far as look, Shawn was/is a *very* handsome dude with a great "crossfit before crossfit was a thing" type build. His ring jackets and other ring wear were fantastic as well.
His Charisma is tied more to his ringwork than anything for me. But at the same time, he was a fantastic promo with equal skill at playing heel or face.
---
That's our thoughts; now give us yours! How would you grade these three? And who do you want to see us rate going forward?
We hope you like this new series, and until next time… take care!