WITH THE NIGHTMARES WROUGHT OF CHOCOLATE CHIP GOODNESS BEHIND HIM, YOUR HERO RETURNS WITH ANOTHER STEP INTO THE SEEMINGLY ENDLESS JOURNEY OF DELICOUSNESS! THIS… IS POP-TART QUEST!
Sometimes in life–just sometimes–one thinks "I could really go for a Popped Tart-like Treat. But which way to go? There are fruit tarts, and there are also brown tarts. Whichever could I be in the mood for…?"
And like Cinderella's fairy godmother riding down into your bedroom on a glistening rainbow star, Pop-Tarts has your back in these moments of indecision.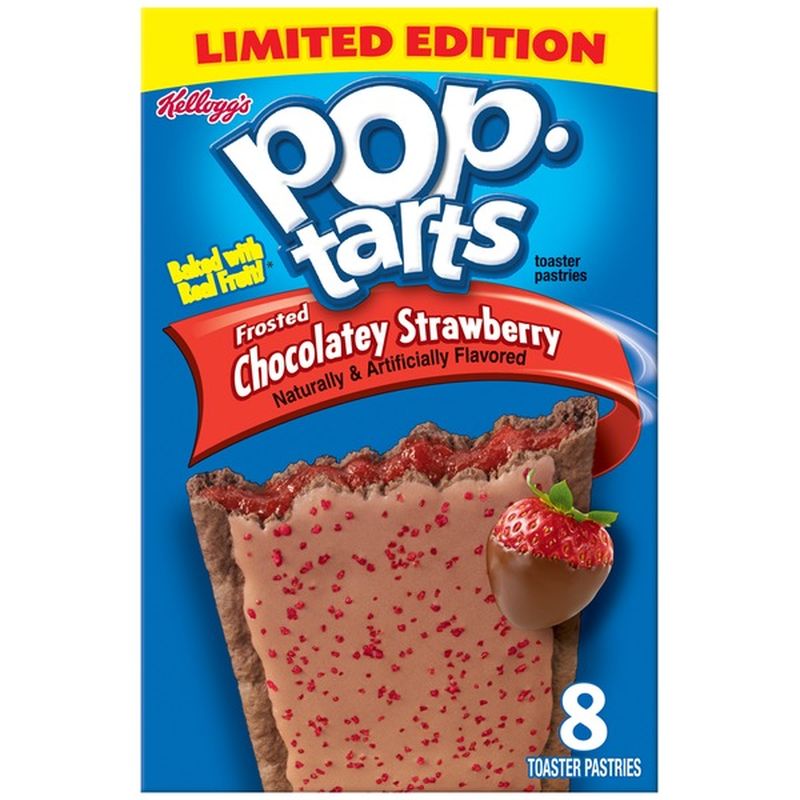 The eternal struggle between fruit and chocolate has a signed an accord–a treat-y, if you will–and that accord is Chocolatey Strawberry Pop-Tarts. Now I know what you're thinking. "Chocolatey is not a word". And to that, I say "Shut up, Spell-checker, you don't know my life".
I bypassed a lot of flavors I still really want to try–and a lot of flavors I really DON'T want to try–when I settled on this middle-of-the-road looking Pop Tart. And my reward? A curious, if unremarkable Tart. I was expecting the congealed Pop-Tart sludge within to be a wondrous mixture of chocolate and strawberry flavors, but… it's not. It's really just strawberry inside, near as I can tell. The entire Chocolateyness of this Pop-Tart is just in the exterior of the Tart. And can we take a minute to determine what that thing even is? The inside is sludge, and that's fine, it's cool. But the exterior… is that the "cookie" of it? The "pastry" part? The more I think about this, the more I realize that the exterior of a Pop-Tart is an even bigger mystery that I have stumbled upon, and these are the kinds of questions I never wanted to ponder about my universe, ya know? It's kind of like… gingerbread texture? But not… taste of that… hrm. Brain hurts.
Taste:
B- : "You want the taste of chocolate and strawberry mixed together? Fuck you. Here's regular strawberry jam inside a chocolate shell. We here at Pop-Tarts don't have time for your shit, kid".
Color:
F : Bloody poops.
Texture:
C+ : Ah, this is one of those Pop-Tarts with sprinkles on top. I don't care for those. I worry I'll get one in my eye. This seems plausible to me, shut up!
Spell-Check:
C : 50% of the words in the flavor are spelled correctly, as per my spell checker!
Toasted-To-Untoasted ratio:
25%. I was surprised by this one, because I obviously expected it to be better toasted, but… nope. I definitely liked the untoasted one more. Curious, Tart.
Overall:
C+ : Oh, I'll finish the rest of the box; don't you worry about their going to waste. But I could live with never eating this one again. Lazy Pop-Tarts! You just put a new shirt on Strawberry!