THREE HAVE COME, AND THREE HAVE FALLEN. OUR INTREPID POP-TART WARRIOR MARCHES ON TO DO WHAT NO SANE PERSON EVER COULD… NAY, EVER SHOULD! THIS IS… POP-TART QUEST!
Frickin' Pop-Tarts. All right, fool me once, Pop-Tarts, shame on you. Fool me twice, and I can't get fooled again. I already see how this goes. Chocolate Peanut Butter. I remember Chocolately Strawberry! I remember! That is the kind of wound of deception that hangs around one's neck; a burden of a taste that can not be lifted. I've already played your "Let's combine chocolate with things, BUT NOT REALLY" game. I know how this ends.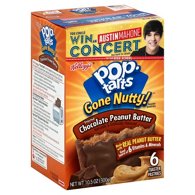 Also, what nonsense this is! Every plebeian knows that Pop-Tarts come 8 Tarts to a box. You imagine this experiment, this newfound Nuttiness of yours, is worth shorting me 2 Tarts? If "going nutty" means forgetting two of your Tarts, then please get back on your medication, Pop-Tarts! Only 6 Tarts in my box, for the price of 8 Tarts? You know what these Pop-Tarts are going to taste like? Capitalism. Sweaty, children-in-factories, razor-glass-for-lunch capitalism.
Oh, I see where my money is going here. Gold colored foil wrapping? So these are the Goldschlager of Pop-Tarts. I'll make you a deal: bring back the silver foil and 8 Tarts, and we'll call it even.
Hmmm… I'll admit, these smell delightful. To be fair, most Pop-Tarts smell like Death Fruit, growing on the Vine Of Woe, but this… this is better. They smell vaguely of Reese Cups. Tantalizing! And yet, no! I will remain strong! Remember the two missing Tarts! Remember Chocolatey Strawberry! Stay strong, Stewart!
OH MY GOD! OH MY GOD! OH MY GOD! OH MY GOD! OH MY GOD! OH MY GOD! These are incredible! If you could harness the happiness of puppies playing in a field teeming with butterflies on a 73 degree day and turn it into a food, it would be these Pop-Tarts! Oh, Pop-Tart! I am not strong after all! I could never stay mad at you! You are unadulterated, substantive joy!
How long have Pop-Tarts been a thing? Because this what they've been striving for! When Popson K. Tartimus first decided to fill a quasi-cookie shell with sludge, this was his endgame. And all these years later, he has given us these Pop-Tarts, and lo… they are good. So it is written, so let it be toasted to perfection.
Taste:
A+ : Fuuuuuuhhh– these are delightful. Eating these MADE ME A HAPPIER PERSON.
Texture:
A- : No sprinkles! Always a plus. Just a shell with some hard, stale frosting on it.
Being The Best Pop-Tart Ever:
A+ : If Pop-Tart quest ended here today, it all would have been worth it.
Toasted-To-Untoasted ration:
65%. Whatever. Who cares? Just eat them. But toasted? That just unlocks the magic within on these.
Overall:
Gold star A+ : The reason they only give you 6 of these is because no mortal man could endure the pleasure that 8 would bring. These are comparable to, if not outright surpassing, S'Mores for the best flavor of Pop-Tart. BAM. Winner winner, Pop-Tart dinner.