SUPER TIMELY REVIEWS ARE A SPECIALTY HERE, AS WE LOOK AT TREATS RELEASED FOR A HOLIDAY FROM FIVE MONTHS AGO! THIS IS… POP-TART QUEST!
Pumpkin flavored anything! You know what that means!
Wait, can we talk about how terrific The Good Place is? It's in my personal top five sitcoms of all time now, with Arrested Development (network seasons 1-3 only because COME ON, NETFLIX, WHAT ARE YOU DOING TO ARRESTED DEVELOPMENT?), The Office, and maybe Modern Family and Scrubs. Is Scrubs a sitcom? It was a comedy and it was half an hour long, so… wait, was it only half an hour? I'll be honest… it's been a long time since I watched Scrubs.
Irregardless–which isn't a word–The Good Place is dynamite. And it's a show I hate talking about because whenever I recommend it to people, I have to do the whole "YOU HAVE TO WATCH SEASON ONE FIRST DON'T JUST JUMP RIGHT IN!" spiel. What other comedies are even on TV? This show should win every comedy Emmy.
*Googles The Emmys*
THE GOOD PLACE HAS NOT EVEN BEEN NOMINATED IN A MAJOR CATEGORY THE LAST TWO YEARS?!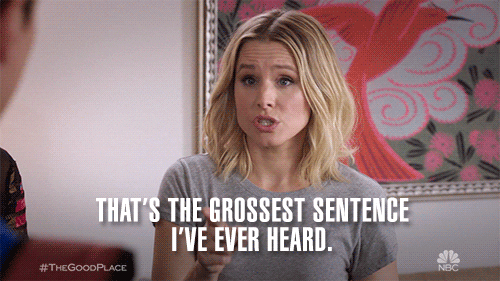 What the motherforking shirt is that?
What won last year?
"The Marvelous Mrs. Maisel"?
No one has ever even heard of that. I would propose some kind of Emmy boycott here, but I'll be honest… I haven't watched an Emmy in my entire life. I don't know when they happen.
Oh wait, Ted Danson was nominated last year, so I guess that's ONE nomination.
ANYWAY POP-TARTS.
I'm actually not a big Pumpkin flavor person. Like, I'll eat a slice if pumpkin pie, but it's somewhere around my 6th favorite kind of pie… which sounds relatively high until you realize I hate all fruit pies. Come on, cream pies are where it's at! Coconut, Banana, Chocolate… these are the best version of pie. But even aside from pies, I don't drink lattes, and… what even else is pumpkin flavored?
Hmmm.
Oh, these Pop-Tarts!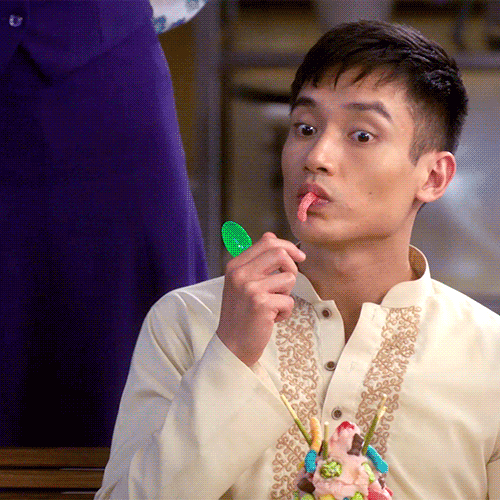 Taste:
C+ : Better than pumpkin pie! Better-ish. Eh.
Texture:
C- : Just regular Pop-Tart texture with the hard rock salt sprinkles and all.
Being Available Year-Round:
D-+ : Only for a few months! Unless you find them at a discount store months later…
Toasted-to-Untoasted ratio:
50%: The difference here was oddly negligible. The untested Tart tasted incredibly similar to the heated one. Enjoy them either way!
Overall:
B+ : I spent most of this article looking at The Good Place gifs, and that made me happy, so I'm pumping the grade a bit. These weren't bad; if you are a pumpkin love, they're likely right up your alley.