I REALLY FEEL LIKE KELLOGGS AND POP-TARTS ARE JUST IGNORING ME AT THIS POINT. I'M NEVER GOING TO GET MY DISCONTINUED FLAVORS! THIS IS… POP-TART QUEST!
As conceivably the laziest person alive–someone who will stop at nothing to do as little work as possible and circumvent any methods by which I will have to do so–I absolutely love that there was 100% a conversation in Pop-Tarts Tower that went like this:
"All right. Some schmuck in Pittsburgh writing dumbass articles depends on us! We need new flavors this month!"
"No, we don't. We have two old flavors!"
"What do you mean?"
"Watch!" He then proceeded to grab two Pop-Tarts and smoosh them into each other.
"I don't follow…"
"You will!"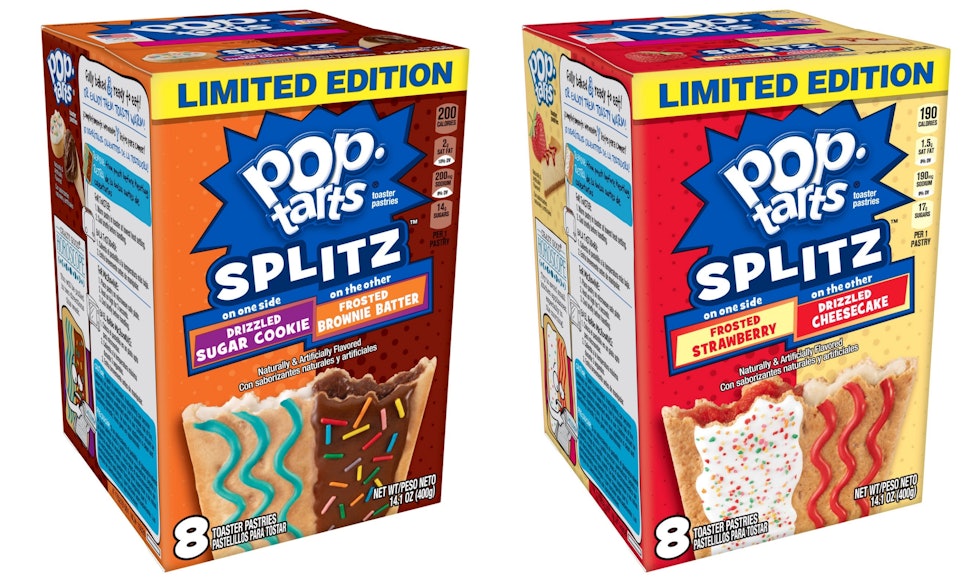 This week, we will be covering the Tarts on the left there, Drizzled Sugar Cookie and Frosted Brownie Batter.
This is totally a case of the whole not being equal to the sum of the parts, by the way, because I have had Sugar Cookie Pop-Tarts before, and they are much better than these were. These ones were oddly and depressingly flavorless on the Sugar Cookie side. It's possible that the previous sugar cookie flavored Pop-Tarts I consumed were better because they were comic book themed, and it's long been a dream of mine to eat Harley Quinn.
Haha, what was that I was saying about a child-friendly breakfast brand not acknowledging me?
(Wait, did I ever review the DC Comics Pop-Tarts? Shit, I didn't! Someone remind me to do that when I have a down week! Not that I remember much about them, but if you're here for genuine and studied Pop-Tart analysis, I don't know what to tell you)
The Brownie Batter part of the Tart was pretty good, and you know what? I don't think I have ever had or personally seen brownie batter flavored Pop-Tarts. Probably one of the exclusive, limited, discontinued Pop-Tarts I don't have access to! The problem with this combination was that it made me wish the whole Tart was Brownie Batter. Damn it!
Taste:
C+ : The Sugar Cookie was so bland I wanted to die, but that Brownie Batter was a saving grace.
Shell:
A : WHAT ALL IS GOING ON HERE? Swirls! And Icing! And, wait… is that… jimmies?! YES, the triumphant return of Pop-Tarts with jimmies!
Being Three Pop-Tarts!:
66.67% : SO CLOSE! Someday.
Toasted-to-Untoasted Ratio:
55% : Toasting does nothing to improve the Sugar Cookie, which tastes like cardboard no matter what you do. And the Brownie Batter is good either way. Slight edge to toasted? Whatever, I have pro-toasted bias.
Overall:
C : If you like paying full price for half-worthwhile Pop-Tarts, then… well, first, you are weird. Why would you like that? You can buy full boxes of good Tarts for the same price! But if you DO like it (weirdo), then here you go!