IN A WORLD WHERE KELLOGG'S PUTS OUT FAR FEWER NEW POP-TARTS FLAVORS THAN THEY USED TO, SOMETIMES THERE ARE HUGE GAPS IN THESE ARTICLES! THIS IS… POP-TART QUEST!
WHO DARES AWAKEN ME FROM MY POP-TART SLUMBER?!
Oh, hey there! It's been… several weeks since our last journey together down Sludge Road. But yeah, I'm STILL not seeing nearly the new amount of Pop-Tart flavors that I used to. What goes on here? There used to be a deluge of flavors; for a while, I thought I'd never stay caught up. There are entire releases I missed where they came out and went back away before I ever got around to buying them. WHAT ARE YOU DOING, POP-TARTS? If you aren't going to make new flavors, at least put the Dunkin' Donuts ones I missed back in stores!
Actually, to be fair, they did recently return two Tarts to mass consumption, including one of which I missed back in the day because I was SO ENAMORED of its dark twin. Something something beggars something something choosers, and… here we are!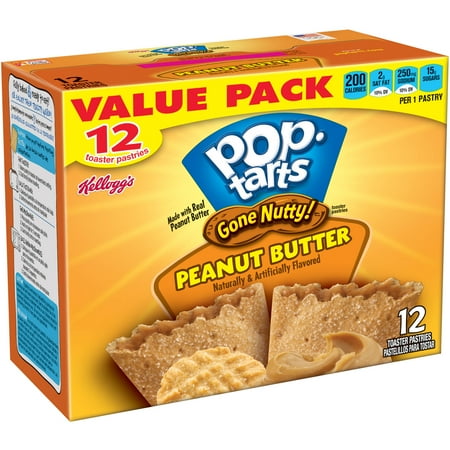 Yeah, it's just the Chocolate Peanut Butter Tarts minus the key chocolate component. But to be fair, I'll remind you that Chocolate Peanut Butter Pop-Tarts are amazing. And this is just those without the frills. Take away the fancy dress, and what do you have? Pop-Tarts in their bras and panties! And who wants that? They aren't even shapely. They are just so square. No curves at all! And, as we know, nothing is better out of its fancy dress.
Well, much like Michael Myers' random victim, I mean long-lost sister, I mean actually just a random victim after all (BOOM! Halloween franchise joke!), these Tarts are also great undressed!
You know Pop-Tarts, right? And how negligible the pastry shell is? I mean, it's all right for what it is, but… it's 5 minutes to stale and just a vehicle for sludge. NOT HERE. The casing of these Pop-Tarts is a god damn peanut butter cookie! Wow, did that blindside me! It is absolute peak Tart shell up here! I love peanut butter cookies! It's, like, a top 3 cookie.
Hey, did you know if you get married in Pennsylvania, you get a billion cookies? It's called a cookie table, look it up. It is literally the only reason to ever attend a wedding. I don't think ladyfingers and buckeyes count as cookies, but someone always brings them, and GOD BLESS that person out here doing the Lord's work.
Taste:
A+ : Decent quality peanut butter. FANTASTIC shell. I kind of love these.
Are Buckeyes Cookies:
C- : Obviously not. A Nestle Crunch Bar isn't a cookie, either, but I'll bloody well eat it if you out it on a table, though.
What about ladyfingers, though?:
I: What… what is happening to my categories this week?
Toasted-to-Untoasted ratio:
70%: More definitive than I would have thought; these SHOULD be toasted, but it's not integral or anything.
Overall:
A+ : I CAN'T STOP GOING ON ABOUT THE PASTRY SHELL. Such a beautiful surprise.