IN A WORLD WHERE SOME PEOPLE THINK "SALT" AND "SWEET" BELONG TOGETHER, POP-TARTS HAS YOUR BACK. USUALLY YOU WILL FIND PRETZELS TO BE TWISTY-TURNEY TREATS, BUT WHAT IF THEY WERE… FLAT? THIS IS… POP-TART QUEST!
I don't know that there is a single mall around me that doesn't have, like, at least TWO Auntie Anne's Pretzel Shops. And usually in close proximity to one another.
I know, I know. "Malls", right? How anachronistic. I might as well talk about all of the horse-drawn carriages in my area (though… I do live within two hours of Amish Country, so…). But you know what? I kind of love malls and always have. They have… stores? And they have… food? So, hmm, that's a lot like anywhere else ever. Come on, brain, what sets them apart?
Oh, they have indoor temperature control! And music! So you can go from the stores to the food in comfort and rhythm!
(Saved it!)
But yeah, they also have a LOT of Auntie Anne's, and I'm not sure why. What is it about shopping at Old Navy and Victoria's Secret that makes people want pretzels and slushie frozen drinks? You're browsing at a lot of clothes your fat ass is too big to fit in, looking at the mannequins there to make you feel like absolute shit about yourself, and you think "Well, fuck it. Guess I need carbs and syrupy drinks. All is lost, anyway".
Yeah, I see you, Mannequin-With-Abs. That's not even realistic! You are inflexible; you can not work out your abdominals! And you serve no purpose! Who is looking at shirts and thinking "this is my size, but will it fit over my PERFECTLY SCULPTED AB MUSCLES? These are the challenges I face when I need a new Polo shirt. Oh, it looks good on that Herculean mannequin over there, so I guess I will be okay". I want more mannequins that look like my soon-to-be-40-oh-my-god-it's-not-going-to-get-any-better-is-it physique.
(You could say that I can blame the constant, mass Pop-Tart consumption on my physique, and I would say "fuck you, mind yo' business")
Oh! Pop-Tarts! That's right!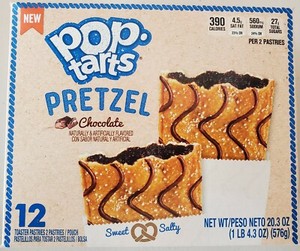 I've never been a particularly big salty/sweet person. I think it confuses my mouth and gives me a weird aftertaste I do not expect. Like… it's fine–I can abide by the combination–but it's rarely something I seek out. My wife goes to Burgatory and gets the salted caramel milkshake, but I opt for the S'mores or Banana Foster milkshakes, but why bother with salt when I can have EVEN MORE SWEET?
(A lot of people in my life ask out of the blue if I have a family history of diabetes, so if you are concerned, YOU ARE NOT ALONE. The answer is… I don't know! My mom was adopted! So it's a great mystery of life. I do think, however, that if I don't have diabetes by now, it doesn't actually exist)
ANYWAY, these Tarts were entirely pleasant! I wasn't expecting much, but they were completely fine. I think a key selling point is that the pretzel shell is a massive upgrade over the typical Pop-Tarts shell (except for the higher-end shells found on the Red Velvet Cake or Gone Nutty Peanut Butter tarts). It may not be what I generally want when matched with sweet sludge, but it's better than stale cookie and flavorless icing.
Maybe it was just the first pack of sample Tarts to write about, but these Tarts seemed to contain a solid 30% less Pop-Tart sludge than usual. That was kind of disappointing because if I DO have to mix salt and sweet, I want the sweet to be the core flavor. Here, it was the salt. Hopefully the rest of the box has the appropriate amount of sludge.
TASTE:
B- : I never ever realize how much I genuinely dislike Pop-Tart shells until they come out with a flavor that reworks the shell into peanut butter cookie or pretzel or something. If these were an UNSALTED pretzel, I'd give these at least a B+
ICING:
A : Just a few swiggle drizzles of chocolate, so as not to interrupt the pretzel flow. More Pop-Tarts should take such a conservative approach to icing!
WHY ARE THERE SO MANY AUNTIE ANNE'S, THOUGH?:
D: Two in the mall in which I get lunch frequently are in the SAME EXACT SPOT, one on the second floor, and one on the first. And the escalator is RIGHT THERE. How is that good marketing? Who is this serving?
Toasted-to-Untoasted ratio:
75%: Compare a warm soft pretzel to a cold soft pretzel. What do you think?
Overall:
B : These aren't an every-day Pop-Tart, but they are a delightful way to break up the Tart monotony. The… the… moTartony, as it were.