ANOTHER WEEK, ANOTHER TART, SO IT IS FOR YOUR FEARLESS TASTEVENTURER AS HE UNWRAPS A NEW FOIL PACKET TO SPILL ITS SECRETS UPON THE WORLD. THIS IS… POP-TART QUEST!
So, back on Week 1 of the Pee-Tee-Cue, I mentioned how Chocolate Chip was the flavor that started The Quest when I caught it glancing at me across the Wal-Mart and thought of how delicious it looked. And that's still true–I wouldn't lie to you!–but this flavor… this flavor was what really put the idea of Gotta Try 'Em All in my head.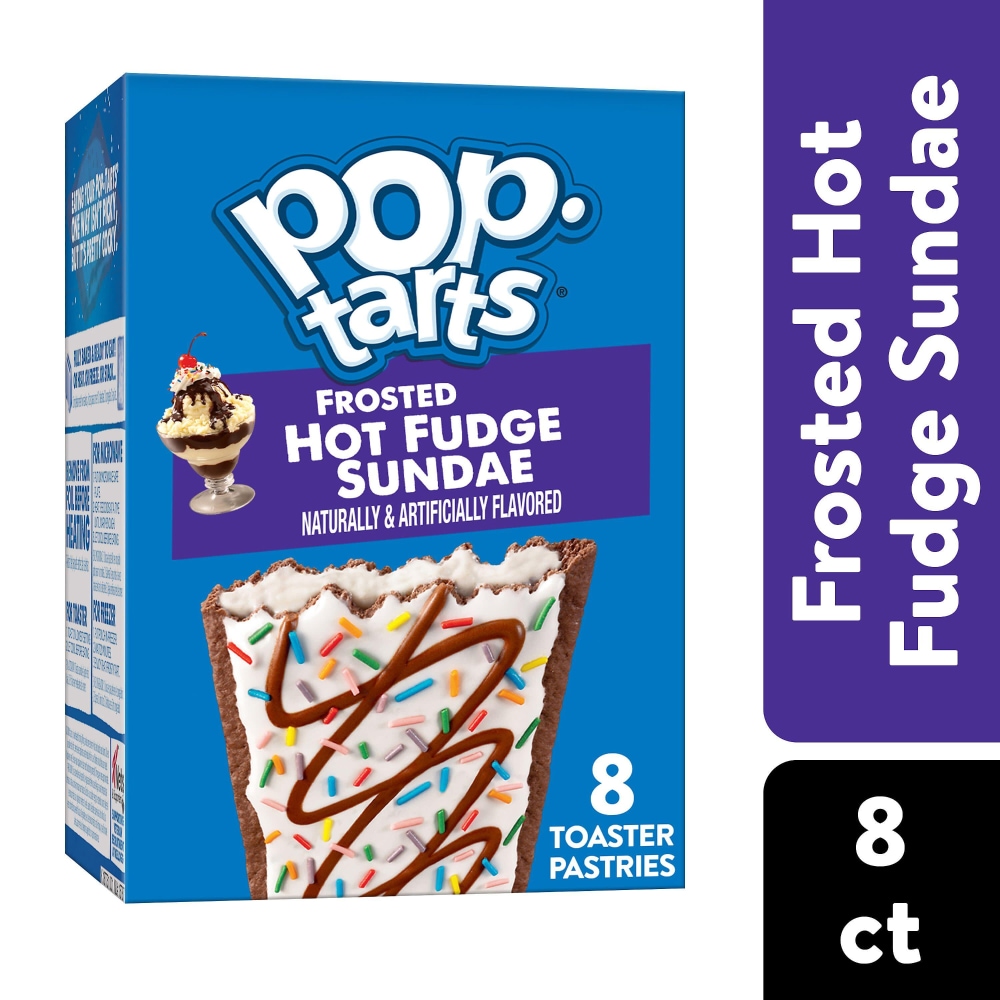 See, for as much as I wanted Chocolate Chip Pop-Tarts, that was the extent of it; I just wanted that. But as my eyes glanced around the display that stretched across the boundaries of taste and sensibility, it was Hot Fudge Sundae that first made me think, "Well Christ. They have a Tart for everything, don't they? I wonder what other weird flavors they have…". So I surveyed, and thus an idea was born.
But yeah, I mean… Hot Fudge Sundae? Now you're just throwing words at me, Pop-Tarts. How do you put a hot fudge sundae—
–into a Pop-Tart? It's utter nonsense. I mean, like, okay… "Strawberry". That goes into a Pop-Tart. "Chocolate Fudge"? Pop-Tart. Brown Sugar Cinnamon is a Pop-Tart. These are all individual flavors. "Hot Fudge Sundae" is not a flavor. It is, like, at least three flavors. Maybe up to five flavors. What's next? "Medium sized pizza with half anchovies, and half sausage" Pop-Tarts? Why not " Grilled chicken salad with raspberry vinagerette" Pop-Tarts? These are also things that are not, by definition, a "flavor". Get to work, Kellogg's. Put a meal into a Tart. You're so close!
So, spoiler alert: Hot Fudge Sundae Pop-Tarts do not taste like hot fudge sundaes. I know… I was shocked, too. But they are good, so they have that going for them. It's a sweet taste; a pleasant taste. It didn't make me crave a sundae, though, which is… good? I don't know. Pop-Tarts have enough calories by themselves. I could do without a sundae, you know?
Probably the two most noteworthy aspects of Hot Fudge Sundae Pop-Tarts are:
The sprinkles are actually good old fashioned jimmies sprinkles, not, like, colored salt-rock sprinkles.
The sludge is not at all regular Pop-Tart sludge! It's much more creamy in its consistency. This was quite a pleasant surprise, to be honest, because I've come to expecting the ol' Chunky Sludge. Now I'm just disappointed that next week, I'll invariably be back to the standard goo. Sigh.
Taste:
B+ : It's good! It's not Chocolate Peanut Butter, but I can't really afford to measure everything against that because then Pop-Tart Quest will be nothing but bitter defeat after bitter defeat.
Jimmies:
A+ : So much better than Colored Salt Rock sprinkles; I can't even tell you guys.
Toasted-To-Untoasted ratio:
90% : This is another Pop-Tart who destiny is be toasted. Untoasted Tart was a non-starter; Toasted Tart was a warm, creamy treat.
Overall:
A- : They are good, but not great, just based on taste. A lot of this grade comes from the peripheral joy these brought me. Creamy insides! Jimmies! Such happiness these bring me!