I don't know if I will have written and posted the article by the time this review is published, but I recently decided I would do a Top Ten list of my favorite comic book artists.
What a foolish endeavor.
Within thirty to forty minutes of off-the-top-of-my-head thinking, I had a cut-down list of over fifty names. Following that up with some actual research had pushed that to about 60.
I might go for a Top Twenty, but that's even MORE frightening. With ten, I can say "well I could only fit ten!" if people were offended over who I left off. But the bigger the list, the less viable that defense becomes.
Pray for me.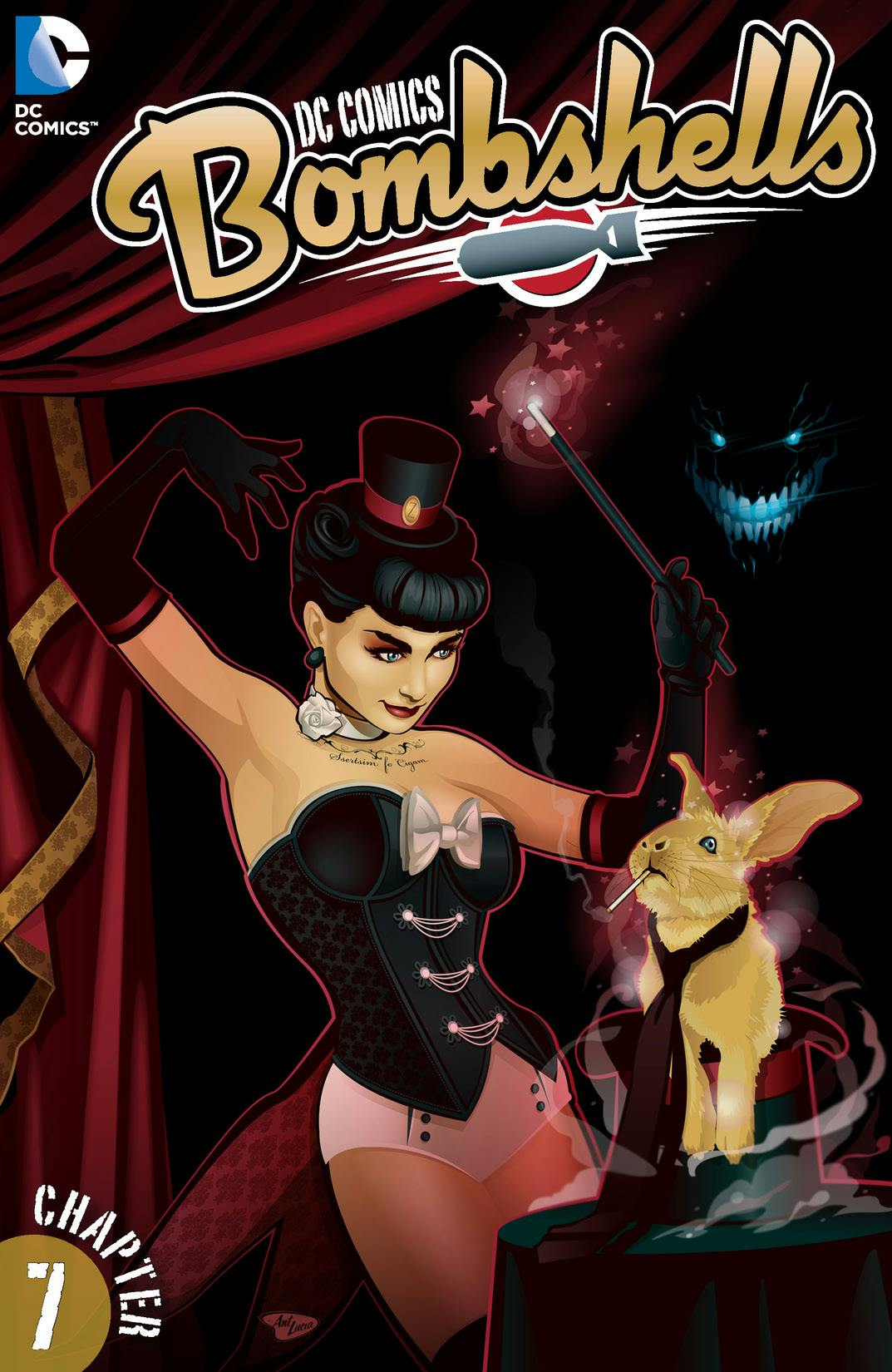 TITLE: DC Bombshells
Writer and Artist: Marguerite Bennett and a WHOLE BUNCH of different artists, virtually one every issue. Let's see… Ant Lucia, Garry Brown, Laura Braga, Marguerite Sauvage, Ted Naifeh, Stephen Mooney
Publisher: DC
Protagonists: Batwoman, Wonder Woman, Mera, Supergirl, Stargirl, Zatanna, 
Antagonists: Nazis and stuff
A couple of years ago, I got really into Pop Vinyls and Kotobukiya Bishoujo statues at the same time (due to buying my first of each at Wizard World Convention in St Louis). I've thankfully pulled way back on each, to the point where I only buy one if there is a character I simply have to have.
(I'm still waiting on my Jubilee Pop Vinyl)
There are a lot of toys and statues based on comic book characters. It makes sense because you are targeting folks who already have a mindset of wanting to collect things. Sure, you want every issue of Spider-Man, but don't you ALSO want all of these Spider-Man branded statues? How could you not! This is the same statue exact sculpt, but there is one painted in this costume AND one painted in that costume!
Well the DC Bombshells went one way and then back the other. The Bombshells were initially designed by Ant Lucia as a series of pin-up styled statues based on an assortment of DC Comics' most popular women. So successful was the line that it spawned pin-up art, tumbler glasses, and everything else. Eventually DC decided… why not make an actual comic series? of these characters. Who are already in comics.
Anyway, the DC Bombshells are the perfect fusion for my household of my being allowed to decorate things with comic book characters and my wife being allowed to decorate with pin-ups. So those tumbler glasses I mentioned? We have those. As well as a slew of fridge magnets and a few signed art prints by Ant Lucia.
The story of the Bombshells takes place during World War II and covers the whole globe. We see Kate Kane as a baseball player-slash-vigilante in Gotham while all the men are away. Wonder Woman finds an injured Steve Trevor after the war accidentally invades Themiscyra. Supergirl and Stargirl are Soviet sisters. Zatanna is performing magic for the Nazis to summon a dark god. The first several issues introduce them all.
The idea is that, much like how the actual world worked in that day, the men were at war, so women needed to pick up the pieces and keep everything moving. Along came Amanda Waller, and she decided that women can support the war on a front of her own, and so the Bombshells started to form.
It's kind of a shame the Ant Lucia doesn't draw the actual series, but it's possible he is strictly a cover art and pin-up guy. His stuff is gorgeous, but for all I know, he's not particularly great at story-telling. Also, I met him at C2E2 this year, and he was very friendly and personable. I bought Bombshells playing cards from him.
I really like this line.
That said, this book is NOT cheesecake, and it's better for that. These characters may have started as throwback pin-up designs of classic characters, but the story here only borrows the idea of the pin-up era and not in having the characters exist merely as pretty images.
(Though there is some gorgeous shots of Batwoman and Maggie Sawyer together if you are here for that)
I'm not sure how I feel about the pigeon-holed era in which it takes place. Could you do this same story with a tale set today? Or in 1850? It's hard to say. This book manages to take a time in history where women were viewed through a more respected and empowering lens and go full-on super heroine with it. And that's great.
At the same time, having the pin-up versions of characters existing in the pin-up era feels a touch on-the-nose.
I do like that in just the first few issues, the series is all over the map, literally. It's not necessarily an American-centric point of view when so much of the title is dedicated to Zatanna reluctantly helping Nazis or Supergirl and Stargirl being Soviets or Wonder Woman and Mera coming from their mythical lands. For an event that was a WORLD War, it works better this way.
As far as out of continuity Elseworlds stories go, this is a fun one. DC has so many fantastic characters outside of the typical Superman, Batman, Barry Allen, Hal Jordan realm, and I am generally here for anything shines a spotlight on them. It's great see a book delivering time for Zatanna and Batwoman and Supergirl.
Talking Point: I'm sure I'm missing some, but there's been A-Force, the Bombshells, and the all-female X-Men team from a few years back. What is your favorite heroic lineup filled out only by women?
OVERALL
I think the world built up around some statue designs is more fulfilling than you'd imagine. The characters and the time setting really work. Fighting Nazis never gets old! The constantly changing artists is a BIT annoying, but it's not distractingly so. It's a fun read, and I am going to keep on with this title for a while!
8/10