THE WEATHER IS GETTING COLDER, BUT IN YOUR MIND'S EYE, YOU CAN STILL PICTURE A WARM, SUNNY DAY. CHILDREN GATHER ON THE SIDEWALK TO SELL YOU CUPS OF BEVERAGE FOR 50 CENTS. 50 CENTS! AND YOU YOU DON'T EVEN GET REFILLS! WHAT KIND OF SCAM IS THAT? MONEY-GRUBBING BRATS! ANYWAY, THIS IS… POP-TART QUEST!
On an oppresively hot summer day, after the sun has been beating down on you for hours, might I recommend popping a dry, flaky treat into your toaster as a way to refresh yourself?
No? Are you sure? I mean… it's quite invigorating, I'm told.
I kind of wonder what will be at the store next week. Milk flavor? Ginger ale? Apple juice? Gatorade (I have SUCH A FEELING this actually existed at one point)? I don't think Kellogg's understands that you are not supposed to eat drinks… Drinks are for thirst, not hunger.
There is something about this Pop-Tart that had my brain convinced it was gum. I am not sure if it was the chewy "sprinkles" on top that reminded me of those little milk cartoon gum treats from my youth…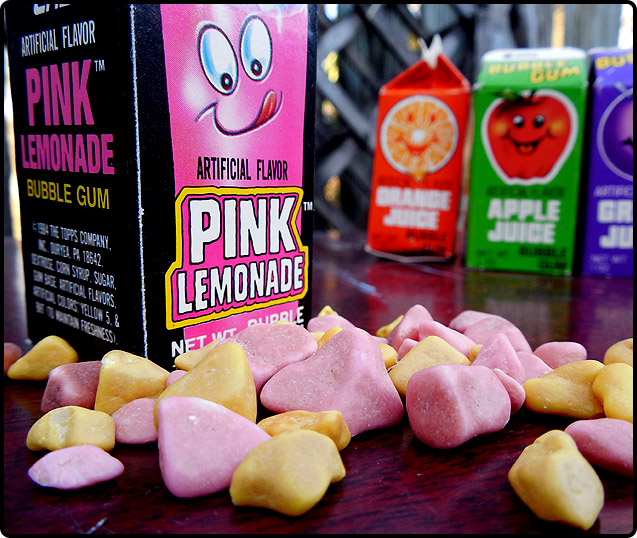 Anyway, yeah… not sure if it was that or the color or just the overly sweet flavor, but my brain was all "Naw, this should be gum. Why am I swallowing this? We don't swallow gum! Throat, you are betraying us!" And now I'm pretty sure that these Pop-Tarts are going to be trapped in my intestines for eleven years, like some indigestible Tart Worm, absorbing all the nutrients from my food and turning them into Pop-Tart sludge…
Oh! Is that how that stuff is made? Kellogg's just mines that sludge right out of our intestines? With an arthroscopic straw or something? Damn. And yet, it makes SO MUCH SENSE. What else in the world could possibly give you that weird, wonderful consistency?
So, hey, for real, though. Do they still make those gum carton things? Because I have the taste for them now. Anyone know where I could get some at? Hm. I haven't thought about that in years. What other delightful treats from my childhood am I forgetting?
Taste:
B : This was a weird Tart because my opinion on them went from "OH GOD WHY!" to "This is somewhat edible" to "I sadly kind of dig these" between the first bite of the first Tart and the last bite of the second Tart. And the weird thing is, every time I made these, that journey began anew. "WHY AM I DOING THIS wait it stopped being terrible and now I like it". It was like waiting in the same line over and over at an amusement park.
Color:
WK : What is that even–come on. That's not a grade. No, but it is WK, which stands for Wiz Khalifa because I MAY or MAY NOT have, at one point, sang to my Pop-Tarts. "Awww you know what food is. Pink and yellow pink and yellow pink and yellow pink and yellow".
Being a cool, refreshing drink:
Incomplete – Food is not a drink, Pop-Tarts.
Overall:
B-ish? Wait, is that Bee-ish or Bee minus-ish? I don't know. Look, I'm mailing this one in , guys. I really just want those gum things. It is literally all I can think about now. I wonder if Amazon sells them…