As before, let's recap if you're just joining us. I'm reviewing each Pokemon generation and region one-by one and measuring them against each other in seven categories. I've ranked each gen in each category, and am sharing the scores with you to determine how they rate. A score of 6/6 in any category means that the region was the best out of all six generations in that category, culminating in each region getting a score out of 42. Here's where we stand at the halfway point (which means, god, I have three more of these, huh?)
Generation 1/Kanto got a score of 30 out of 42.
Generation 2/Johto got a score of 22 out of 42.
Generation 3/Hoenn got a score of 22 out of 42.
4. Sinnoh, Generation Four – Diamond, Pearl, and Platinum.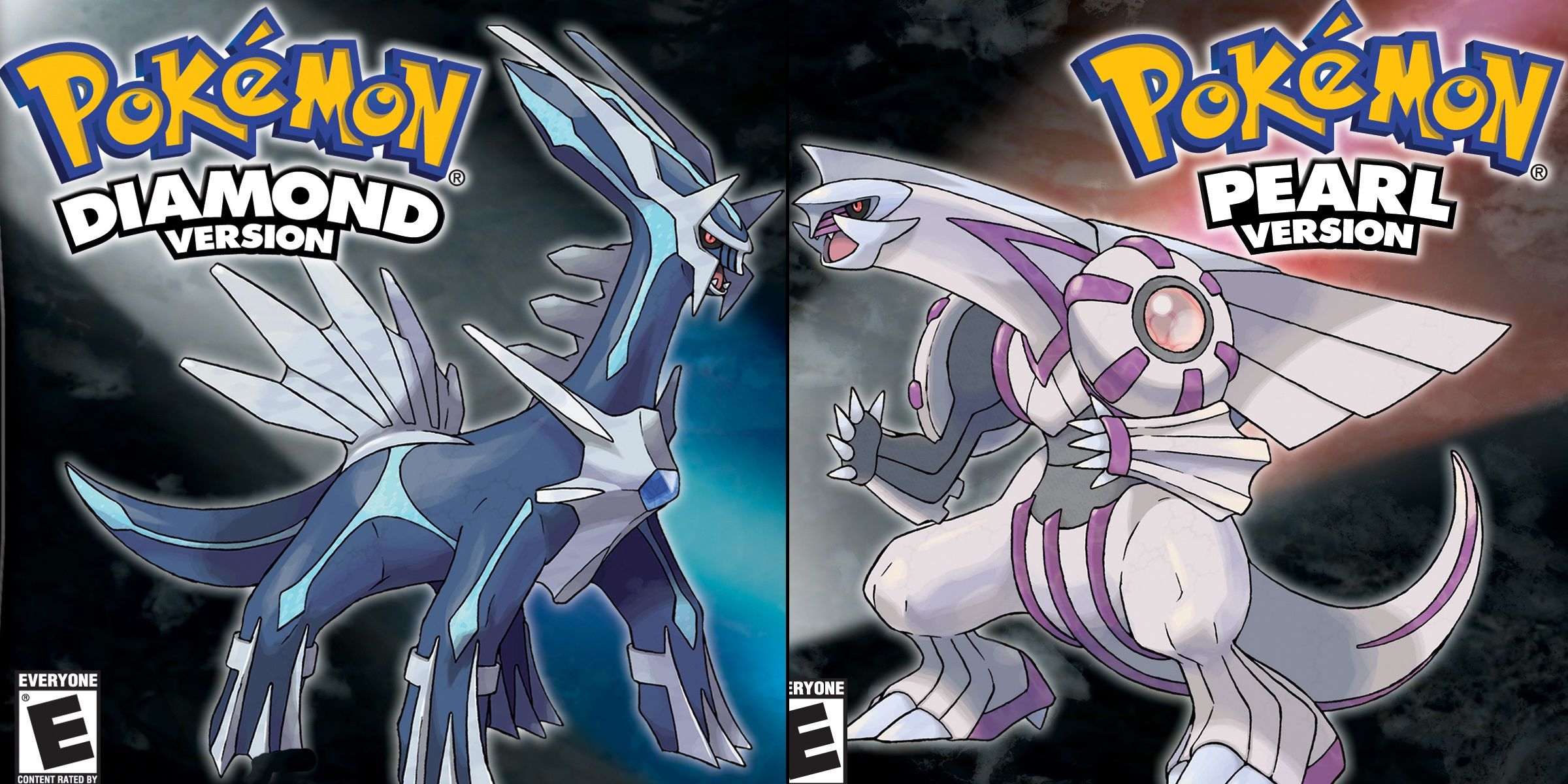 After a relatively long wait from Generation 3 (which concluded with remakes of the original Red and Blue games in the form of FireRed and LeafGreen… remakes which were somewhat necessary because there was no connectivity between Generation 2 and 3, so players had no way to get some Pokemon from the first set of games onto their modern ones), Nintendo and GameFreak released Pokemon Diamond and Pearl on this strange new handheld device called the Nintendo DS. Be it the original, the Color, or the Advance, all the previous Pokemon games had been GameBoy games; it was generation four that launched the series into the DS era. How did that initial transition go? Let's look to the scoreboard…
GAMEPLAY: For being introduced on a new system, Sinnoh did not introduce a lot of changes, but there were two incredibly important ones. One was more-or-less bungled on its initial arrival, and that was wi-fi connectivity. The premise was that it was friggin' 2007, and players should be able to connect all around the world to trade and battle their pokeys… not just with someone in reach of a link cable. Unfortunately, the connectivity of the DS models was sketchy, so this wasn't a real option for many players (myself included; I never managed to get my DS Lite or DSi XL to accept a Wi-Fi connection in their lives, curse them). It was, however, essentially, good groundwork for subsequent games. The second major addition was much more successful and integral to the games, and that was the Physical/Special split. Without droning on TOO MUCH about how the games themselves work, Pokemon had had both physical and special offensive and defensive stats since forever, but moves themselves were stuck in lame bundles based on what types they were. ALL water-type moves worked on the special level; all ghost-type moves were physical, for examples. It was silly, and it didn't allow some Pokemon to reach their full potential (lookin' at you, Gyarados). Gen 4 said "screw that" and brought in the ability for moves of the same type to be either physical or special based on the idea that they could derive from a more physical blow or be energy-based (Flamethrower remained a special attack, but Fire Punch became a physical move). This was a HUGE adjustment to the series, and like innate abilities from Gen 3, it's become so ingrained that it's hard to imagine Pokemon from before the S/P split.
Aside from those, gameplay mechanics in Sinnoh were underwhelming at best, and outright bad at worst. As far as side missions go, Sinnoh kept the same old Pokemon Contests from Hoenn. Ho-hum. And some of the new weather mechanics (annoying fog! mudholes you can get stuck in!) were a bloody nuisance. So, in summation, Physical/Special split? Great, necessary change! Everything else? Mmmmmeh.
OVERALL: 2/6
STARTERS: You may have been wondering since I alluded to this way back in Part 1, but here it is… Sinnoh is the sole region that did such a good job on its starter Pokemon that, for my money, they surpassed the classicness of the original Charmander/Bulbasaur/Squirtle trio. The starters here do everything Pokemon starters are supposed to do–the beginning forms (Piplup, Chimchar, and Turtwig) are all adorable; the final forms (Emploeon, Infernape, and Torterra), beastly and intimidating. And they all end up matching well against each other. Sinnoh was the first region (of only two total) where the starters would all end up getting a secondary typing, and they played it in such a genius way that it led to them all being effective and balanced against each other (Torterra's ground typing allows it to be able to pummel Infernape's fire side, but Infernape's fire typing can devastate Torterra's grassy self; Infernape's fighting-type can wreck Empoleon's steel type, but Empoleon still has the basic water-over-fire advantage on Infernape; Empoleon's steel typing neutralized the damage Torterra's grass moves can do to it, but gives it a weakness to Torterra's Ground moves. And while Torterra doesn't sweat either of Empoleon's steel or water moves that much, it takes 4x damage from any ice-type moves Empoleon learns). Whew, that was a long parenthetical. Basic premise? This is the best gen for starter Pokemon.
OVERALL: 6/6
OTHER POKEMON: Sinnoh introduced a middle-of-the-road 107 new Pokemon to the series, and many–MANY–of those were pre-evolutions or new evolutions of existing Pokemon. It seemed like Sinnoh was the region where they wanted to balance out old Pokemon or just introduce cute new evos for others. Hell, it took a single, no evolution Pokemon from Hoenn, Roselia, and gave it BOTH an evolved form AND a pre-evolution (Roserade and Budew, respectively)! There are two areas where I can't deny them, though: they didn't introduce any flat-out worthless slugs like Unown, Delibird, Luvdisc, and Castform in the previous generations (unless you count male Combees, but female Combees are quite useful); and a few Sinnoh Pokemon would be nifty enough to rank among my favorites ever (The Shinx line, Spiritomb, Gastrodon [which, oddly enough, is an actual slug]). Also, there's Bidoof, Sinnoh's early-route-useless-rodent type, who ended up getting a lot more attention (I can't really say "love") than Rattata, Sentret, or Zigzagoon before it ever got because, well, he's just so derpy.
OVERALL: 3/6
LEGENDARY POKEMON: Oh ho ho. Remember what I said about Hoenn? Where GameFreak just went berserk on the legends? Someone decided science hadn't gone too far in Hoenn when they were designing Sinnoh. Let me put it this way: Sinnoh introduced 107 new Pokemon. Of those, FOURT-fRIGGIN'-TEEN were legends. FOURTEEN! Out of 107! That's thirteen percent of the Pokemon in Sinnoh are legendary Pokemon! That'd be like if you went outside, and 13% of all living creatures you saw were dinosaurs that controlled time and space. There's a part of me that wants to hold that against the games because it's just an absurd ratio, but there's a bigger part of me that doesn't care because the Sinnoh legends are fantastic. Sure, there are so many that some feel pointless (did we really need Manaphy or Phionne?), but the Diamond/Pearl/Platinum games do an excellent job incorporating the legends into the storyline. Mesprit, Azelf, Uxie, and [depending on the verision] Palkia, Dialga, and Giratina are all relevant to the plot of the games. Aside from those, we get Regigigas (is that… are there too many gi's there? Rej-Ee-Gig-As… No, that seems right) as the leader of the Regi's introduced in Hoenn, Cresselia and Heatran as hidden away, powerful creatures, among others. Oh, and God. That's right, in Generation 4, GameFreak just decided to come out and say that a Pokemon (namely, Arceus) is God. Which leads to some interesting (no, not interesting, sorry. Nerdy. I meant to say "nerdy") chicken/egg discussions regarding Arceus and Mew.
Also, the Sinnoh legends had a lot better stories than previous generations. There is a whole mythology about Arceus creating the world, Palkia and Dialga balancing space and time, the lake legends being responsible for humankind's ability to feel emotions, have willpower, and gain knowledge. It was the first region since the notes about Mewtwo in Kanto where the legends felt like a real fable instead of just being really powerful creatures hidden away somewhere.
OVERALL: 6/6 (you clearly don't lowball God's score)
VILLAINS: The nemeses of Pokemon Diamond, Pearl, and Platinum are a group called Team Galactic, a crazy throwback to old-school comic book supervillains, so of course I loved them. How could I not? Pokemon villainy started off as small potatoes (Team Rocket wanted to be a mafia organization), then got boring (Team Rocket wanted their boss back), then got silly (Team Aqua wanted to flood the world; Team Magma wanted to dry out the seas), but Team Galactic just went grandiose–they wanted to eradicate all life on the planet and redesign mankind in their own image as a world without emotion or spirit (because Cyrus, Team Galactic's boss, had mean parents. TELL ME that doesn't sound like an old-school super villain origin story!). Team Galactic also has props for having several sub-bosses with names and distinguishable appearances. Not super creative names (Jupiter, Mars, Saturn, Charon), but names nonetheless! They actually even have a measure of success in-game as the player is incapable of stopping them from abducting the legendary lake guardians, Mesprit, Uxie, and Azelf. The best any previous villain team managed was causing a legend to go on an angry rampage.
OVERALL: 5/6
RIVAL: Barry is not the best rival in Pokemon. Objectively, I know that. He's not as accomplished or difficult as Blue. He doesn't have the character arc and backstory of Silver. But it doesn't really matter, because I always dug Barry. He is the kid who's on a constant sugar-rush. He charges headlong into everything without regard for anything. He's not particularly threatening to you as the player, as he's really just your friend, nothing more. But I get a kick out of how he is handled in-game, in Platinum particularly. There, when you meet Professor Rowan and get a chance to be given your first Pokemon, Barry's recklessness makes the prof think twice about giving you one, at which point Barry begs the prof to give your character one and not hold his impetuousness against you. It's a nice touch to show who Barry really is. Oh, and later, he takes up hero-worshipping a pro wrestler-turned-Pokemon trainer named Crasher Wake and forces himself on Wake as a protege of sorts; it's just humorous to see. And even later, he's come to realize he will never be as strong as the player character, but he still does everything he can to be helpful. So, no, objectively he isn't the best. But he held my attention and made me want to see him succeed more than any of the other games' rivals.
OVERALL: 6/6
CHAMPION: The series took a slight step back in one regard of the champion, Cynthia: she wasn't as prevalent in the arc of the story as Blue, Lance, and Steven had been. When you get to her in the championship, it's more of an "Oh, you?" feeling than anything else. But that's where the disappointments end. Cynthia is possibly the most challenging of all the champions in the games; her Pokemon all boast flawless stats, and she has some seriously big hitters (Her Spiritomb which has no weaknesses, a Garchomp, and a Milotic, for starters). I distinctly recall her team giving me no end of fits if I wasn't leveled up enough to take her down. Also, visually, she has a a unique, sexy design (Can I say that? I mean, it's a game aimed at kids, yeah, but Cynthia is clearly supposed to be relatively hot. I'm just sayin'). So yeah. I should just stop there. That's good championin'.
OVERALL: 5/6
TOTAL: So do the scores seem a little weighted across the board there? They should; Sinnoh was and still is my favorite region in the series. And Generation Four as a whole was a superb one because after the main series of games, it rebooted Gold and Silver as the modern remakes, HeartGold and SoulSilver (which, if I had focused on them more, could have bumped Sinnoh up in Gameplay due to the PokeWalker and being able to travel with your Pokemon outside of its ball). Sinnoh wasn't perfect (I can't stress enough just how terrible the fog and mud aspects were), but it was the region that felt the most vibrant and alive to me, and the new Pokemon there are first-rate. Viva Sinnoh!
TOTAL SCORE: 33/42