WHEN LAST WE LEFT OUR BREAKFAST BARBARIAN, HE WAS… YOU KNOW… EATING POP-TARTS. OBVIOUSLY. BOY, THIS IS REALLY SIMPLISTIC WHEN YOU THINK OF IT. THIS IS… POP-TART QUEST!
I live by a theory that you can clearly delineate foods by breaking them into two lists: Foods That Are Better Than Things Flavored After Them, and Foods Where The Flavor Is Better Than The Actual Food.
Erm… I will explain.
Take cherries for example. Cherries and things that are cherry-flavored are both delightful. Cherry-flavor tastes nothing like cherries, but they are both pretty good. Ultimately, cherry flavor usually tastes better than actual cherries. The same goes for orange flavored treats tasting better than real oranges. However, blueberries, strawberries, and grapes all taste a lot better than things that are flavor-modeled after them. Root beer tastes better than root beer flavored popsicles or Dum Dums or whatever. And you can divide things down the line from there.
Here's a controversial one, though: I like foods that are derived from the Oreo family much more than actual Oreos.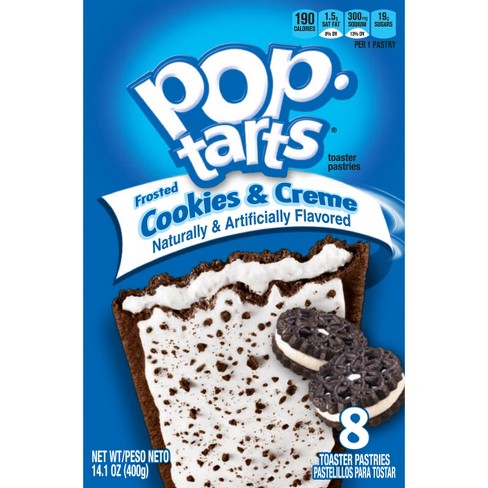 I know, I know. Sacrilege! But I'm not a big Oreo fan. The cream in the middle is not something I enjoy. The cookie itself is nice. Double-stuffed Oreos? Nay! I demand half-stuffed Oreos! Stuffless Oreos! Just give me the cookie, really. You can lick all the icing out first.
But, like, Oreo Blizzards at Dairy Queen? Those are boss. It's essentially just the charming cookie in some happy ice cream.
Isn't it fascinating how much I am talking about Oreos and Dairy Queen in my Pop-Tart review?
That's because Cookies & Cream Creme Pop-Tarts are just Oreo-flavored Pop-Tarts. They even have Dollar Tree brand Not-Oreo cookies right there on the box! Also, can we talk about this "creme" nonsense? I thought it was supposed to be "cookies and cream". Isn't creme pronounced "krem"? Are these supposed to be called Cookies & Krem? That sounds Russian, and I don't trust it one bit! Why, those dirty Russkies–
No, no. Rocky Balboa is right, as always. We can't blame these Russian Pop-Tarts for what they are. I can change, they can change. EVERYONE CAN CHANGE!
Like Pop-Tarts changed just "okay" Oreos into a delectable breakfast pastry!
(Yes, brought it all home at the end there!)
Taste:
A- : If Oreos proper are, like, a B- food, then these are better.
Consistency:
A : We're back to the creamy (kremmy?) insides, and we know how much I appreciate that!
Best Rocky Movie:
4, I Guess, If We Aren't Counting 1 : Wait, why aren't we counting 1? Because it didn't end the Cold War, duh.
Toasted-to-Untoasted Ratio:
75% : These work fine either way, but… toast 'em!
OVERALL:
A : Like Ivan Drago looking upon Apollo Creed, these Pop-Tarts sees Oreos and disdainfully declare "I must break you".