Is Ollie's a national chain, or is it somewhat local? Do you know what Ollie's is? It's terrific. They have the cheapest random assortment of stuff in the world. It's an occasional boon for finding discontinued Pop-Tarts for the Pop-Tart Quest. But beyond that, they just have so much great stuff.
Including discounted comic books sometimes!
I went out to Ollie's last night, and they had a large table overflowing with deeply cut trades, and while I only bought three… I know where Ollie's lives. I can go back anytime I want. Like… tomorrow. Probably tomorrow.
Either way, now I have a few more weeks of knowing what books I'm going to discuss, starting… now!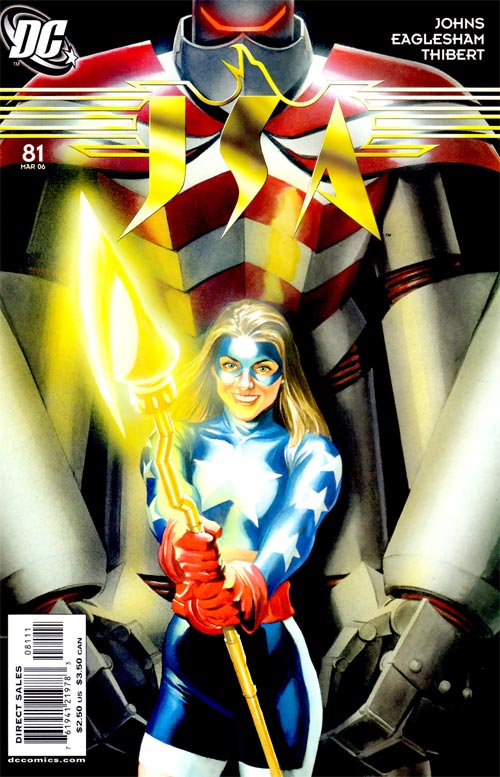 TITLE: JSA – Mixed Signals
Writer and Artist: Geoff Johns, Keith Champagne, Don Kramer, and Dale Eaglesham
Publisher: DC
Protagonists: Look, I'm not naming everyone in the JSA. There are, like, 50 of them.
Antagonists: Mordru, Qwsp
JSA is one of those books that I love what I have read of it, but I have not read nearly as much as I would like. With my purchase of "Mixed Signals" (it was $2.99!), I now own two separate trades from the Geoff Johns turn-of-the-millennium run, and I have also read scattered issues here and there.
One of the reasons I looked into the DC Universe streaming service was the hope that JSA comics would be available for online reading, but… nope. There are two issues available on that service, so… thwarted! But hopefully they will add more over time.
This story takes place near the end of the Johns' JSA era, and it tells a few different stories. The two primary ones center around one division of the titular group fighting off the evil sorcerer Mordru while another ventures to the Sixth Dimension to rescue a lost Jakeem Thunder and Thunderbolt. In typical JSA fashion, there are some other goings on with Atom Smasher pleading guilty for his role in the war in Kahndaq and Hal Jordan's cousin Airwave showing up for an issue with his powers going out of control.
Ultimately the heroes are able to save Thunderbolt and free Jakeem from the influence of Qwsp. They return home just in time for Thunderbolt to defeat Mordru, and the day is saved.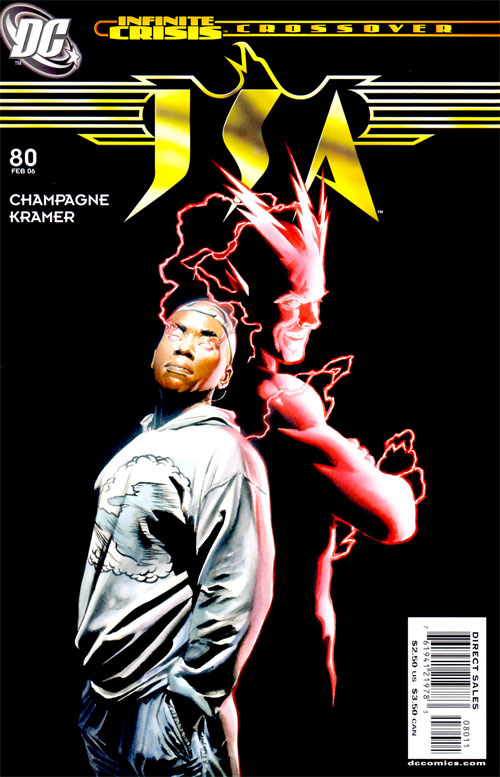 Like a lot of books that juggle simultaneous plots, this story has aspects that worked for me and others that didn't.
I didn't care much for the Airwave interlude, as he is a character I'm not particularly knowledgeable on. His inclusion here seemed like a reason to shoehorn in a guest appearance from the recently-revived Hal Jordan. On the other hand, I enjoyed the beginning with the Society dealing with the guilty plea of their friend Atom Smasher His story had been developing for almost the entirety of the JSA run, and it felt more earned. I did not love the JSA having a fairly mundane Big Superhero Fight against Mordru with big flashy wizard attacks between him and Dr. Fate, but I enjoyed the stuff with Thunderbolt and Jakeem. I was invested in the latter because I really enjoyed those two characters, and I was hooked to find out if Jakeem had actually turned evil on his friend. So it was a balance of good with bad in those regards.
There was ultimately more to like here than not, including a last issue to the trade which is a wind-down tale starring Star Girl. We get the story of how she met S.T.R.I.P.E. and stole his equipment to become a hero, and we are shown her struggles with being a daughter to an absent father, her relatioship with a doting mother, and how she works with her step-father (and partner in the field). Courtney Whitmore was a character that Johns did a lot with in JSA, and this issue was a great addition to her story.
This isn't a story you can just pick up and enjoy, though. The stuff I liked (the angles based around Atom Smasher, Jakeem and Thunderbolt, and Stargirl) was because I felt invested in those character arcs from across the rest of the run. Conversely, the facets that I didn't care were the things I didn't have an attachment to. To someone without any ties to this JSA run, this story (aside from maybe the Stargirl issue which is entirely self-contained), this whole trade would come across as a mess. Now, I'm talking about a series that is seventy-to-eighty issues deep at this point, so that seems like it might be common sense, but other comics remain accessible deep into their runs. You can just start most Batman or Spider-Man or X-Men books at almost any point you want and get caught up pretty quickly.
Talking Point: Geoff John was Mr. DC for a long while, and he wrote several titles besides JSA. What were your favorite arcs of his?
OVERALL
JSA is a continuity-heavy title that Johns had a great affection for that he crafted from (nearly the) beginning to end. It's not something you can just stick your toe in, especially this late in its run. As a series, I love what JSA I have read (and am always looking to read more), but as a stand-alone trade? Get some of the earlier stuff and build your way here. It will end up being worth it.
5.5/10